Winter 2017/18 – Winter packages and tips
Take the advantage of accommodation packages and the possibility to buy skipasses to the ski resort Jasna – Low Tatras and High Tatras directly from our pension at very reasonable prices. You do´t have to stand in long lines at the checkout and you can ski to the full.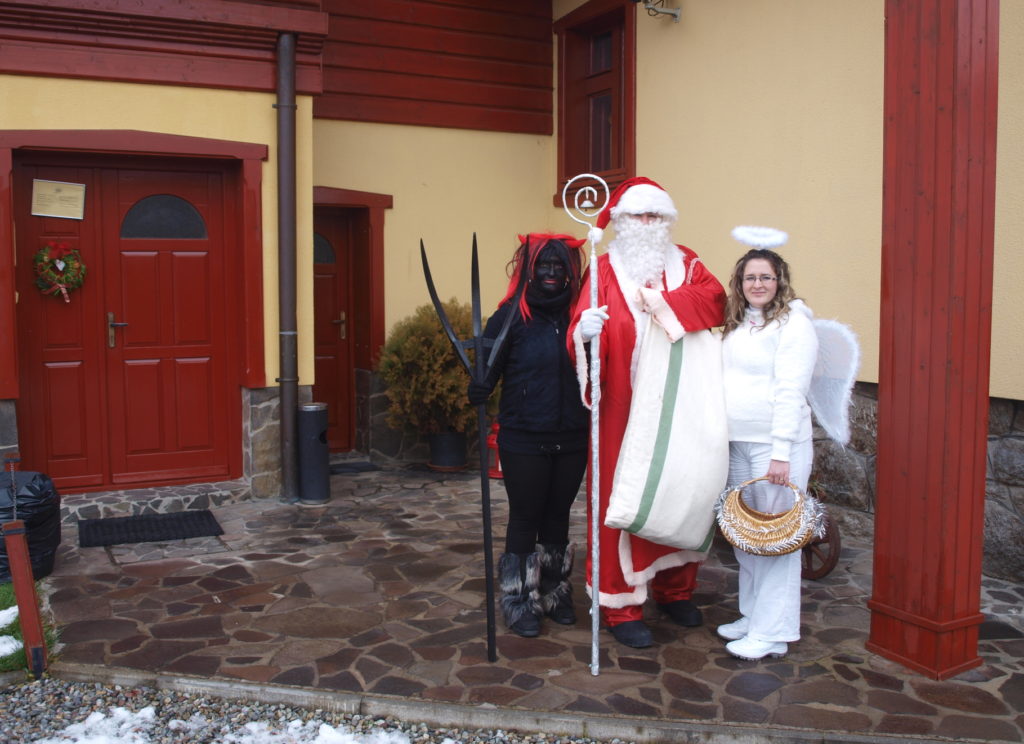 Winter season we always start with  Mikulášska parties for children.  Mikuláš (Santa Claus) visits our pension together with devil and angel!
INFORMATION ABOUT SKIBUS IN SEASON 2017/2018
Free ski bus will take you to resort Ski centrum Jasna during the winter season.
26.12.2017-03.4.2018
The nearest bus stop is Demänová rázcestie – blue line Tatralandia –  Jasná Ticket is skipass or Liptov Region Card– Both of them you have in our pension for free. The card is not bounded validity and is registered to a specific person.
You can get off the skibus at:
Demänovská dolina Lúčky – with a connection on a chair lift B8 Lúčky – Vyhliadka (6persons)
Demänovská dolina Záhradky – with a connection on a chair lifts  B2 Záhradky – Priehyba, or B1 Záhradky – Rovná Hoľa
Demänovská dolina, Jasná, parking – with a connection on a chair lift B3 Biela Púť –  Jasná, or a gondola lift A3 Grand – Brhliská
FIRST MOMENT SKIING and SPRING SKIING – SKIPASS GRATIS
for the price  89 € /person/2 nights
02.12. – 25.12. 2017
04.04.2018. – till the end of the  ski season
Package includes:
2 x ACCOMMODATION + 2x BREAKFAST + 2x SKIPASS + SAUNA!
 *Children under 6 years without bed stay free of charge.
 **Price does not includes local touristic tax 1 EUR/night/person over 10 years.
***The price is valid when the room is occupied by 2 persons.
WINTER PACKAGE FOR 6 NIGHTS FOR 2 PERSONS FOR THE PRICE 276 EUR.
10.01. do 03.04.2018
Package includes:
Accommodation, breakfast, sauna during all stay, good price 5 EUR for jacuzzi, internet in the room, discounts in selected restaurants up to 20%, parking, GIFT – a package of tea from medicinal herbs from High and Low Tatras.
We can buy for you a 6-days skipasses with great discount directly from our pension !
Satisfaction Guarantee  –  if skipass haven´t been used for skiing, they can be used for swimming in Aquapark Tatralandia or Gino Paradise Bešeňová.
*Children under 6 years without bed has stay and skipass free of charge.
 **The price of extrabed and breakfast for child under 12 years is 72 EUR.
***The price for adult on the thrid bed is 130 EUR.